Did you know that the current global connectivity rate is at 67,9%? Which means that around 32,1% of the global population does not have access to the internet. When we started our journey as foundation in 2019, 48% of the world population did not have access to connectivity. The numbers show great progress, but including the remaining 32,1% is absolutely necessary to ensure further development.
Global internet connectivity varies widely, influenced by factors such as infrastructure, affordability, literacy, censorship, and shutdowns. In this blog post, we'll explore key connectivity challenges, developments, and improvements across regions. Grab a snack, and let's dive into the world of connectivity!
Oceania
Data and challenges
Overall in Oceania, the internet penetration rate is around 70,1%, while in Australia specifically, approximately 96,2% of the people are connected. One pressing issue is the extension of the internet in remote and rural areas, including the numerous islands scattered across the region. These islands, often neglected in terms of internet infrastructure investment, face barriers related to the high costs and technical difficulties associated with connecting them to the established network infrastructure that exists in the larger cities.
One challenge for the region is that there are indigenous people and communities experiencing lower levels of digital access. This digital divide can be attributed to factors like limited digital literacy, high costs of the internet, and lack of experience with technology.
Developments and improvements
Australia is actively developing a targeted digital inclusion plan for indigenous communities. This plan aims to enhance access, affordability, and digital skills. By 2026, the objective is to achieve equal digital inclusion for the entire population.
Efforts to bridge the connectivity gap in remote regions focus on utilizing satellite internet. This approach ensures equitable access and services, matching the urban digital experience for rural populations. We currently don't have any partners or projects in this region, so feel free to contact us if you are working to strengthen connectivity in this area!
South and Southeast Asia
Data and challenges
This region is home to several emerging economies, driving significant internet usage growth, with approximately 70-80% of the population having some form of internet access, which is comparable to Oceania. The Covid-19 pandemic increased the demand for online communication. However, despite being the world's fastest-growing e-commerce market, the region faces challenges, primarily due to wide economic differences. This leads to substantial variation in internet connectivity across the region.
Affordability remains a key hurdle in the region as fixed broadband prices in countries like Indonesia, the Philippines, Thailand, Vietnam and Malaysia exceed the recommended affordability target of 2% per capita income set by ITU and UNESCO in 2021. Internet access in remote and less populated areas is another challenge, as these regions often lack adequate infrastructure coverage.
Another significant challenge lies in digital literacy and skills gaps which leave parts of the population unable to access the internet, even when the infrastructure is in place. Women bear the burden of this, most often being the ones with lower digital literacy levels compared to their male counterparts across all ages.
Developments and improvements
Despite the various challenges this region experiences, there are many positive developments taking place. Vietnam and Indonesia experienced record surges in social media use. Overall, considering the rapid economic growth, the region is quickly transitioning to digital economies despite the diverse stages of economic development. We have yet to do any projects in this region, so if you know of an organization that would be a good fit for us, let us know!
Central and East Asia
Data and challenges
Central and East Asia experience different challenges compared to South Asia. One challenge is that a majority of the countries in Central Asia have weak digital infrastructure, which leads to limited connectivity. Deficiency in digital infrastructure leaves nearly half the population in this area unconnected.
Areas that do have established digital infrastructure face other challenges. China has developed 'the great firewall', which restricts access to certain websites, social media sites, and prohibits the use of certain words through authority-regulated control of online activities by law. Social media sites such as Facebook, Google, Youtube, and Twitter are censored, along with a number of other international websites. The censorship of such sites also means blocking of independent media, such as NGOs, international human rights organizations and opposition parties.
Additionally, this region experiences relatively frequent internet shutdowns, with India topping the list. Internet shutdowns can be used for governmental control such as to shut down protests.
Developments and improvements
Despite the obstacles people experience in this region, there are clear signs of improvement. Between 2019 and 2020, Uzbekistan almost doubled its fiber-optic infrastructure, expanding it from 36,600 kilometers to 68,600 kilometers. The introduction of simplified permits for the construction and deployment of cell towers enabled quick expansion of mobile networks. With this fast expansion, there also needs to be a focus on digital skills to ensure that all of this access doesn't go to waste. Our partner Internet Society is running a project to work on improving rural connectivity, focusing their efforts on two Sherpa villages in Nepal, close to Mount Everest. By setting up a community network, they not only increase internet accessibility in the area, they also empower residents with newfound digital capabilities.
Similarly, Servelots has partnered with us to run different connectivity projects throughout India. Their current focus is setting up a community network to improve connectivity in Sathgatta, near the town Urdigere. Their vision extends to improving the use of the internet in the local school and granting individuals the means to access the internet from their phones.
In the long run, these developments promise to enhance the region's digital infrastructure. Yet, the question remains: even with the necessary physical infrastructure in place, will individuals be able to enjoy unrestricted access?
Middle East and Northern Africa
Data and challenges
Around 45% of the Middle East is fully connected to the internet. Countries like Qatar and the United Arab Emirates have a connectivity penetration rate of nearly 100%. However, war-torn countries such as Syria and Yemen experience minimal internet connectivity due to widespread infrastructure destruction. Similarly, countries across Northern Africa also face huge disparities in internet access. Data from Datareportal reveals that Sudan had the lowest internet penetration rate at 28,4% while Morocco led Northern Africa with an impressive 88,1% at the beginning of 2023.
The regions' challenges vary, ranging from government-imposed internet shutdowns aimed at suppressing social unrest to cultural factors that influence perceptions of the internet. There have also been instances of website blocking across Northern Africa, the latest in Algeria in June 2023.
Developments and improvements
Countries in Northern Africa are taking measures to tackle the connectivity deficit. Egypt and Jordan are progressively building internet connections. In general, internet speeds across northern Africa have increased in the last few years, despite the global economy experiencing setbacks caused by the Covid-19 pandemic and the war in Ukraine. We have yet to work on a project in this region so let us know if you know an organization working on connectivity here.
Southern and Eastern Africa
Data and challenges
In Eastern Africa, internet access remains a challenge, with only 23,1% of the population having access to the internet, according to Statista's data from 2023. The rural-urban digital divide is visible. Large portions of the rural regions lack service due to the national grids not covering remote areas. This leaves rural areas with limited options for alternative internet connectivity, such as expensive satellite connection. Internet restriction and censorship poses another issue, limiting opportunities to spread information to the rest of the world, organizing protests, access to medical aid, and keeping in touch with family. Censorship is also used to control the flow of information during times of unrest or presidential elections.
Eastern Africa was notably one of the last major regions in the world to adopt fiber-optic broadband internet, leaving many reliant on costly satellite connections. However, recent developments in connectivity, such as getting undersea fiber-optic cables, has mitigated both the availability and affordability challenges.
When such undersea cables break, which recently happened outside of South-Africa, it has a significant impact on internet speeds and availability, leading to increased internet costs. The southern part of Africa enjoys an overall internet penetration rate of approximately 72,3% of the population. However, there is a significant difference between the urban and rural areas. Rural townships experience lower connectivity compared to urban areas. Regular electricity shutdowns and blackouts make internet connectivity unreliable. Rural areas also experience higher internet costs due to the expenses associated with extending internet infrastructure to remote locations.
Developments and improvements
Project Isizwe takes proactive measures to address the internet access limitations faced by rural townships in South Africa. They emphasize ensuring internet sustainability while keeping it financially manageable for the local communities. The sustainability of the community network relies on monthly, pre-agreed upon contributions from the local communities that benefit from the connectivity. BOSCO (Battery Operated System for Community Outreach Uganda), works on a similar project in Eastern Africa, by extending and upgrading community networks in Uganda, reaching areas that are not included in the national grids.
Unconnected.org also works in the region, in which they have connected a school through their ConnectED program, ensuring affordable connectivity for the students and teachers. By introducing computers to Malawi youth, they aim to promote the value of the internet, making it an essential tool moving forward.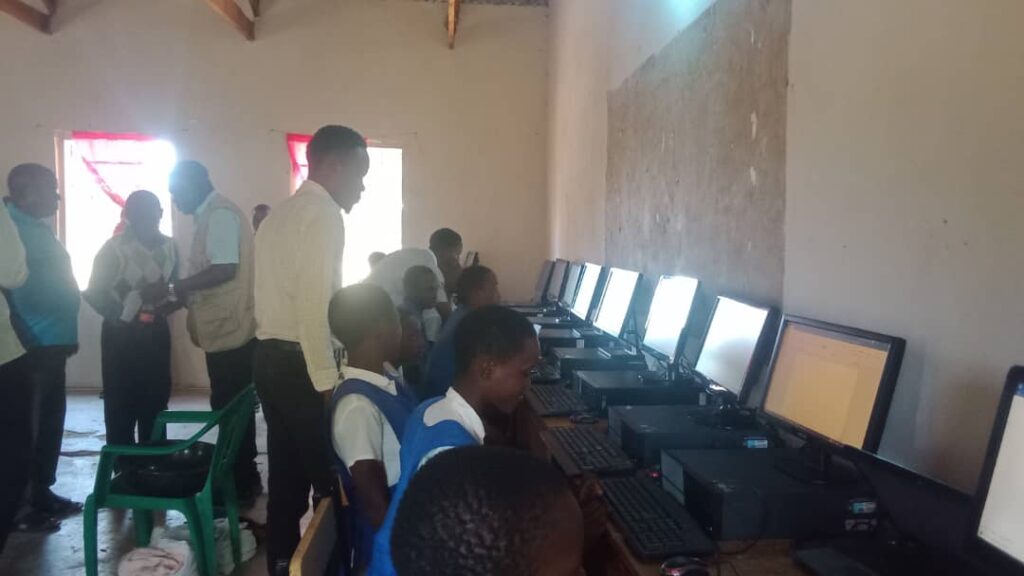 Western Africa
Data and challenges
Overall lack of data for western Africa causes the region to be understudied. However, Nigeria stands out as a relatively well-connected country, with about 55% of its population enjoying internet connection as of early 2023. It is important to note that Western Africa is one of the poorest regions in the world. Economic hardship is a major barrier to internet access and connectivity development due to issues of affordability. High costs of mobile services and low purchasing power results in limited prioritization of connectivity expansion. In fact, mobile data prices in the region are among the highest in the world when adjusted to cost of living.
The consequences of low connectivity rates include a widespread lack of digital skills. Despite the growth of mobile broadband coverage, there exists a significant usage gap. This means that even though more people become covered by mobile broadband networks, they do not use it, since they don't know how.
Developments and improvements
To tackle the challenge, Zee Tech Foundation and Fantsuam Foundation, both located in Nigeria, provide digital literacy training for local communities and students. Zee Tech Foundation educates students on safe internet usage through their Online Safety Crusader course. This knowledge is important for developing a secure online environment in a region that is newly connected. Recognizing the importance of digital skills for utilizing local connectivity points, Fantsuam Foundation has initiated digital literacy training for local community leaders. These initiatives are not only closing the usage gap in the region, but also ensure the ongoing expansion of internet access.
North America
Data and challenges
North America stands as the global leader of internet connectivity, with an impressive 93,4%. The well-developed internet infrastructure in Canada and the United States drives the number up. Despite the region enjoying extensive connectivity, certain parts of the population continue to be excluded. Indigenous communities, in particular, encounter challenges in accessing fast and affordable internet services. In Canada, less than one-quarter of indigenous communities have access to average broadband speeds, while in the US, 18% of the tribal reservations lack any form of connectivity.
Developments and improvements
Tribal reservations in the United States face similar challenges as remote villages near Mount Everest and rural townships in South Africa. That is why a newly established indigenous-led organization will lead the push for connectivity. This organization is committed to empowering indigenous communities by providing them with the necessary capacity, support, knowledge, and financial resources to drive digital equity solutions tailored to their specific needs, on their own terms, and under their own leadership. Additionally, both Canadian and the United States' federal governments have committed billions of dollars in funding to close the connectivity gap in these communities. We don't currently have partners that work in this region, so if you know of a way we can help, please let us know.
Central and South America
Data and challenges
In 2021, 62% of Latin America's population was connected. A significant challenge persists as 31% of the population in both urban and rural areas have mobile network coverage but do not access the internet. Central and South America struggle with internet speeds being up to 16 times slower than those in developed countries, while internet access can be up to 20 times more expensive. Despite strong reductions in internet prices over the last few years, affordability of mobile internet continues to be a problem.
A coverage gap remains pronounced in remote areas or in locations with difficult terrain. Deploying networks becomes economically challenging. Central to the mobile connectivity gap is the lack of demand, often referred to as the usage gap. Affordability, inaccessibility, and lack of demand collectively leaves among 230 million people in the region more or less digitally excluded.
Developments and improvements
Signs of progress are evident in the increasing number of connected individuals within the region. Between 2014 and 2021, the number of people in the region with mobile internet access nearly doubled, from 220 million to 400 million. Brazil, recognized as the world's social media capital, has initiated tax reforms that can help increase demand and further bridging the usage gap. Several organizations and communities are coming together to increase connectivity rates.

Rhizomatica is dedicated to expanding access to mobile telecommunications for those who cannot afford coverage, empowering indigenous communities in the Ecuadorian Amazon to own their telecommunications infrastructure. Similarly, Altermundi, based in Argentina, focuses on sustainable, community-driven network deployment, development, and maintenance. In Mexico, Redes organized a bootcamp to enhance digital knowledge among indigenous communities. Increasing the knowledge of the opportunities the internet brings, as well as how to use it, is instrumental to address the lack of demand that the region currently experiences. Colnodo is now actively working on providing training for people in rural and remote areas in Colombia to be able to set up their own community network.
Europe
Data and challenges
Europe, similarly to North-America, has high levels of connectivity. At the end of 2022, the region had an overall penetration rate of about 88,4%. However, there is a notable digital gap between the Western European countries and South-Eastern European countries. Additionally, in 2021, just over one quarter of the population between the ages of 16 to 74 within the European Union reported above-basic digital skills. The number was even lower for people living in towns, suburbs, and rural areas.
Developments and improvements
The primary focus of the European connectivity debate currently revolves around the establishment of high-speed networks and the expansion of 5G. The current goal of the region is for every European household to have access to high-speed internet coverage by 2025, and gigabit connectivity by 2030. Eurostat's statistics indicate that countries within the European Union are fast approaching total internet saturation, which in 2021 was at 92%.
In some cases, people also experience difficulties accessing the internet due to high costs of internet connectivity. To address this, a pilot project has been launched in the Netherlands to provide affordable connectivity to households which otherwise would have struggled accessing the internet. 48percent.org collaborates with Freedom Internet, Alliantie Digitaal Samenleven, and the municipality of Westerkwartier on this pilot project. Through this, the organizations will assess the effectiveness of a district driven approach to connect more people to the internet.
Striving for equitable access
Different regions worldwide struggle with different connectivity challenges, such as affordability, lack of digital infrastructure, shutdowns, and lack of digital skills. We have found that regions with overall higher levels of internet coverage and digital skills struggle to include remote areas and indigenous communities. This is visible in Oceania, North America, and Europe.
We've also seen that internet shutdowns are being used across various regions, ranging from Northern Africa, Middle East, to South and Central Asia. Furthermore, there are regions that are still struggling to expand network connection due to high costs and lack of digital knowledge. This is evident in both Western and Eastern Africa. Remote areas are also a challenge when it comes to expanding internet access, and this is an issue seen in Central and South America.
While we see challenges, we also see innovative solutions to solve these challenges. Community networks are sprouting up across the globe as a powerful solution to bridge the digital divide. These grassroot initiatives, driven by local communities and supported by organizations and governments, aim to provide affordable and accessible internet connectivity in underserved areas. By establishing community owned networks, residents gain both internet access and a sense of empowerment and self-reliance. Community networks reduce dependence on traditional internet service providers, and contribute to digital literacy and skills development.
These different challenges all need different solutions and approaches in order to solve them, which is why 48percent works together with partners on projects that fall under one of our three program lines. We believe that any progress, whether it is through a large project or a small one, contributes to closing the digital divide.